L&O
Mariska Hargitay Opens Up About Leaving Law & Order Behind
Mariska Hargitay talks ending planned for iconic Law & Order role
Mariska Hargitay continues to delight fans each week with her appearances as Olivia Benson on Law & Order: Special Victims Unit.
While she has been playing the role for decades at this point, she hasn't shown any signs of letting up, and neither has the adoration for her.
However, in a 2018 interview with E! News, the actress opened up about the ideal ending she had in mind for her character.
She was coy about it, however, and she just responded: "I have!" when asked whether she had the conclusion planned, but was unwilling to share it.
"Not yet," was her simple response, although she did confirm that the show's producer, Dick Wolf, was aware of her planned bow out.
The love for Mariska as the iconic television special agent has only gotten stronger over the years, even walking away with the Choice Drama TV Star on Tuesday night's People's Choice Awards.
 

View this post on Instagram

 
She spoke with Nerds of Color back in September about her experience playing such a strong-willed character, saying: "It's such a privilege.
"It's hard to put into words what it's like to find your life's work and find your higher meaning. I am so grateful to play whatever part, however big or small, in any survivor's healing.
MORE: Mariska Hargitay drives fans wild in figure-hugging gown with a twist
ALSO POPULAR: Al Roker mourns death of beloved Today Show behind-the-scenes member
"So for me, if I walked away tomorrow, I would be happy because it's just been beautiful to teach people how to deal with survivors, teach people about the neurobiology of trauma, teach people things that they didn't understand, and also play a part in a victim's healing, you know?"
 

View this post on Instagram

 
She continued: "To believe somebody, to promote empathy and compassion, and to know that's the only way forward is love, the only way forward is those things and the show is truly a vehicle for good. So I'm just grateful."
'Law & Order: SVU' Ice-T Says He'll Stay On The Show As Long As Mariska Hargitay Is Still There
"Law & Order: Special Victims Unit" is in its 24th season. As the longest-running "Law & Order" series and one of the longest-running television shows of all time, "SVU" has accomplished something that many series can only dream of. Cast members come and go, but a few staples have been around since the earliest seasons. Mariska Hargitay's Olivia Benson is the heart and soul of the series. Starting out as a detective and partner to Elliot Stabler (Christopher Meloni) in Season 1, Benson has climbed her way up to captain of her unit.
The other notable character that's been around since Season 2 is Ice-T's Odafin "Fin" Tutuola. As one of the livelier characters on "SVU," Fin is the one to turn to when you need a laugh. With his quick wit, Fin is always cracking jokes and one-liners, but he's also the person who will be 100% honest with you even if the truth is hard to swallow.
The bond Benson and Fin share has grown stronger throughout the years the pair have been on the show. As the only two characters who have survived over 500 episodes (via IMDb), it's hard to imagine that they wouldn't be thick as thieves. As it turns out, the actors who play them are also just as close.
Ice-T thinks that Mariska Hargitay can't be replaced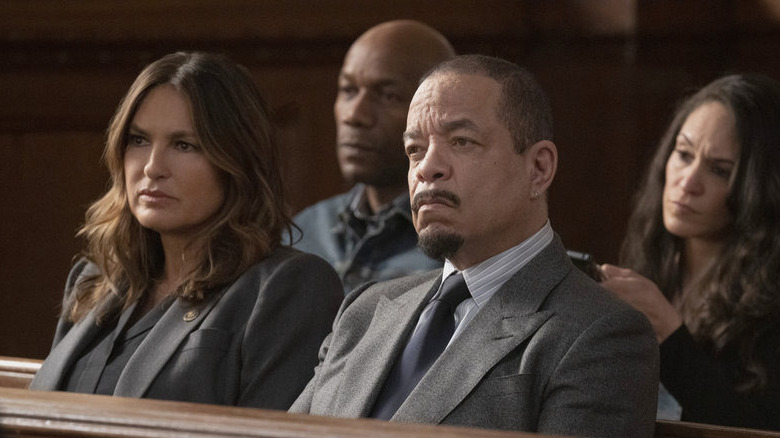 Ice-T sat down with Smashing Interviews Magazine to talk about his new advocation of My Legacy Voice and his role on "Law & Order: SVU." The outlet asked Ice-T if he thought he'd stick around the series until the very end, whenever that might be, and he said yes — as long as Mariska Hargitay does the same.
"I made a statement that I'll be there until Mariska leaves. I think the show is Mariska's show. I don't think Mariska can be replaced," Ice-T explained. To be honest, he's not wrong. When anyone thinks about "SVU," an immediate image of Olivia Benson comes to mind. From the very beginning, she's been the person the rest of the cast turns to as an empathetic leader. In the show's early days, Benson proved that she was a strong and capable detective who would be led by what she believed was right. Even when she didn't outrank any of them, the others turned to her for guidance.
"Fortunately, she's still out buying stuff. So as long as she keeps spending money, I think I've got a job," Ice-T continued while laughing. Apparently, he doesn't see an end to the incredibly successful series anytime soon. "If Mariska starts saving money and liquidating, I'll start getting worried," he jokingly added. "I'll be like, 'Okay. We've got to book a tour. We've got to get on the road.'"
Ice-T Jokes He Had to 'Check on My Pulse' After Learning Kelli Giddish Was Leaving 'SVU'
Ice-T tells PEOPLE calls "from higher up" resulted in Giddish's exit from Law & Order: Special Victims Unit, but he added "I'm not even sure she's gone until they shoot that episode"
Ice-T is not quite ready to say goodbye to his Law & Order: Special Victims Unit costar Kelli Giddish.
The rapper and actor, 64, opened up to PEOPLE about Giddish's departure from the show on Monday at the Law & Order premiere event in New York City.
"It's a sad thing," he acknowledged. "Me and Kelli were friends — dog friends and all that. We became close. Kelli's been here 10 years."
Ice-T noted that calls "from higher up" resulted in Giddish's exit from the show. "It came from the top of the mountain, you know?"
He continued, "When I heard about it, I called to check on my pulse, like, 'What's going on?' But this is the business we're in, and they shuffle the deck occasionally."
Ice-T added that they haven't filmed Giddish's final episode yet. "I'm not even sure she's gone until they shoot that episode," he said, "because you never know."
He summed up, "Kelli will be missed."
Fellow SVU star Octavio Pisano, 36, admitted that saying goodbye to Giddish is "bittersweet." He explained to PEOPLE, "When I came to the show last season, Kelli was the first one to kind of take me under her wing, and most of my scenes in the earlier episodes were with her. So her and I have a bond. Her dressing room is right next to mine, so we connected."
Pisano continued, "Obviously I'm really sad, but I'm truly excited about the next chapter in her life because she's an amazing talent."
"I've learned so much from her in terms of acting and all kinds of things," he said. "So more than anything I'm excited, but obviously it's bittersweet."
Giddish, 42, announced her departure from the show last month.
"I wanted to address the chatter I've seen online and let everyone know that this will, indeed, be my last season on Law & Order: SVU," she wrote on Instagram alongside a series of photos of her in character.
"Playing Rollins has been one of the greatest joys and privileges of my life. I've been so fortunate to be a part of the Law & Order family for the last 12 years. There is simply no other character on TV like Rollins. She's grown and changed, and I have as well. I started on this show when I was in my late 20s and I'm grateful I got to spend so many of my adult years with Rollins in my life," she continued.
She added, "I want to thank Dick Wolf, Mariska Hargitay, Peter Jankowski, NBC, Universal Television, all of my co-stars, every single member on the crew and all the writers here for our incredible work together these last 12 years. I'm so excited to take all the things I have learned in my time on SVU and put them toward everything that's next to come."