Yellowstone
'Yellowstone's Jen Landon Made a Life-Changing Decision Thanks to Costar Ryan Bingham
Recently, Yellowstone's Teeter actress Jen Landon made a life-changing decision about her living situation. And, looking back, she credits the decision to her Yellowstone costar Ryan Bingham.
Speaking with Truck Camper Magazine, Jen Landon said that years of "itchy feet" led her to purchase a Capri Camper. The unit now sits squarely in the bed of her pickup truck. However, it was Yellowstone's Walker actor Ryan Bingham that finally introduced her to the idea of home on the road.
During the interview, Landon recalled a stormy night on the set of Yellowstone. At the time, production was put on pause due to a lightning storm. She said, "It might have been midnight. We were tired … Ryan said, 'Why don't you go take a nap in the camper?' And I said, 'No, I'm good right here. I'd probably get claustrophobic in there.' And he said, 'You should look at it.'"
That's all it took to convince Jen Landon. She humorously shared, "I opened the door and stepped inside and my first thought is, 'I don't know how in the heck I'm going to afford this, but I need one of these. Immediately.'"
Afterward, Jen Landon's Yellowstone costar was very helpful in helping the actress obtain one of her own Capri Campers. She gushed, "Ryan was so encouraging about it and told me that I could get a version with a shower and toilet."
So, while Yellowstone gives Jen Landon the opportunity to embrace life in Montana, Ryan Bingham showed her that all it takes is a Capri Camper to take life on the road.
 

View this post on Instagram

 
'Yellowstone's Luke Grimes Traveled in an Airstream On His Journey to Find Home in Montana
Jen Landon is hardly the only Yellowstone star with a travel bug. After spending years living in the bustling city of Los Angeles, Kayce Dutton actor Luke Grimes previously revealed he and his wife traveled together in an Airstream before deciding to officially make Montana their home.
Reflecting on the journey, Grimes shared that, like many people, he and his wife Bianca's decision to buy an Airstream was a COVID-era impulse purchase. He explained, "Our really cool loft [in Austin, Texas] became like a jail cell."
And so, the couple took to the road, initially to travel the country on a long-awaited cross-country trip. Eventually, though, the Yellowstone star explained, "That trip sort of became about finding where we actually wanted to live. We went to all the mountains all through the West and ended up in Montana, which is where the Airstream is parked now at our house that we built. [We] Kind of homesteaded up there."
The Untold Truth Of Yellowstone's Teeter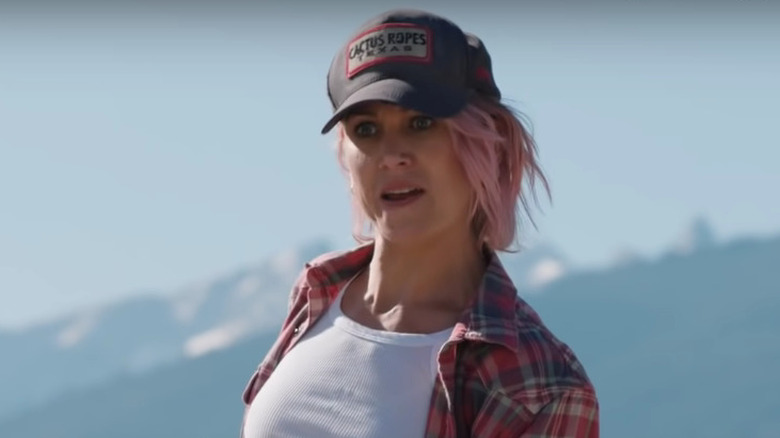 Jennifer Landon thought she'd failed her audition for Teeter
According to an IMDb Pro interview, Jennifer Landon was wholeheartedly convinced that she'd "tanked" her audition to play Teeter. On top of that, she made a less-than-graceful exit from the reading. "[W]hen I was on my way out of the room my head went blank and instead of saying 'thank you' to the casting director, I said 'I love you,'" she revealed. "Perfect way to add a touch of crazy to what I already thought was a mess of a session."
Yet, Landon's audition apparently impressed "Yellowstone" creator and producer Taylor Sheridan who, per a behind-the-scenes video posted to the official "Yellowstone" YouTube page, showed various cast members her audition tape before giving her the official nod.
Perhaps it was all meant to be after all. Landon definitely has a general affinity for her tough-talking, hard-drinking character. "I think I am Teeter. Deep down. I think so. I think I'm a feral, s***-kicking, little weirdo," the actor said during an episode of the cast chat show "Stories from the Bunkhouse." Call it fate or careful casting, but she has definitely left an impression.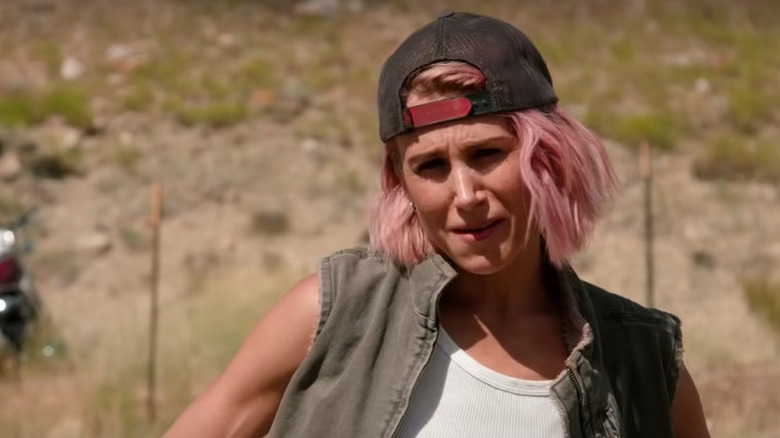 Teeter's the only branded woman in the show's history, and only its second female ranch hand
Even the most casual of "Yellowstone" fans likely know that Teeter is the only female ranch hand we've seen to ever bear the Dutton family brand upon her body. She was awarded that honor back in the Season 3 finale "The World is Purple" after she and Colby survived their trampling. It's a mark of conduct she worked hard for, and one she takes great pride in. Her brand is what saves her from being fired from the ranch in the wake of John Dutton's (Kevin Costner) edict dismissing all women from his bunkhouse in Season 4. Dutton had never been informed of Teeter's branding, and when she makes the case for why she should stay by pointing out that she takes the permanence of the brand seriously, he is impressed by her loyalty. But did you know she's the only the second female ranch hand in the show's history?
The other ranch hand is, naturally, Avery (Tanaya Beatty). Fans met Avery back in the show's first season, but she left in the middle of its second season, only to abruptly reappear in Season 4.
Avery's inability to stick with life at the Dutton ranch only goes to show how determined Teeter is, and how unique her position with the Dutton family remains.